Notice
[Notice]
- If you present this coupon within the validity period at a Caffè Tiamo store nationwide, you can exchange it for a real product.
- Packaging containers may differ depending on the store conditions.
- Food from Caffè Tiamo's bakery cannot be packaged.
- This product is an example image and may differ from the actual product.
- Discounts and points cannot be earned when visiting the store when using this coupon.
- This coupon cannot be used with discount coupons or other coupons.
- This coupon cannot be exchanged for something else other than the original product.
- You cannot use gelato-related coupons at coffee shops.

[Stores where this coupon cannot be used]
- Guro Aekyung Branch, Gimpo Airport Branch, Busan Dongnam Institute of Radiological & Medical Sciences (DIRAMS) Branch, Bucheon We've The State Mall Branch, Buksuwon CGV Branch, Samseon Bridge Branch, Seoul Grand Park Branch (Giraffe / Rhino), Sungshin Women's University CGV Branch, Siheung Jeongwang Branch, Yeosu Hakdong Branch, Yeoksam GS Branch, Wonju Jungang Branch, Pyeongtaek Anjung Branch, Pyeongtaek Ssinus Branch, Chuncheon Toegye Branch, Boramae Branch, Hanam Misari Branch, Tongyeong Hangnam Branch, Chilgok Gyeongbuk National University Hospital, Yangsan Busan University Hospital, Busan Yeonsan Branch, Seosan Air Force Branch
Refunds and Cancelations
If you wish to cancel or refund an unused gift coupon, please contact the customer center within the validity period.
Inquiries
E-mail: support@dpon.gift
Operating hours: 10:00 ~ 18:00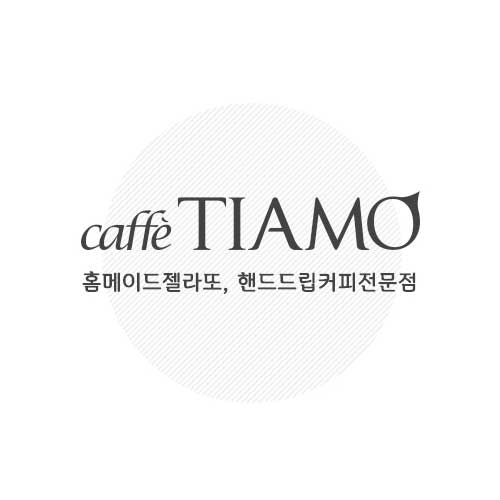 Caffè Tiamo
http://www.ti-amo.co.kr
See all products from this brand
A Korean ice cream and coffee chain store that started in 2006. Tiamo means "I love you" in Italian. The main menu is gelato, which is sourced from Italy.